Register at MyQuidel.com to download and install the latest software updates, assays and testing capabilities for your Quidel Instruments.
What is MyQuidel?
MyQuidel allows you to download and install the latest Software Updates, Assay and testing capabilities for your Quidel Instruments. In addition users can report software updates and manage instruments online.
How does it work?
Register your e-mail address and instrument serials numbers at MyQuidel.com
The website will help you select and download the latest, compatible instrument Software Updates to your PC
Our File Copier app (you receive this when you download an instrument update) helps you copy the downloaded updates from your PC to a portable drive (e.g. USB flash drive)
Then you insert the portable drive into your Quidel instrument and perform the update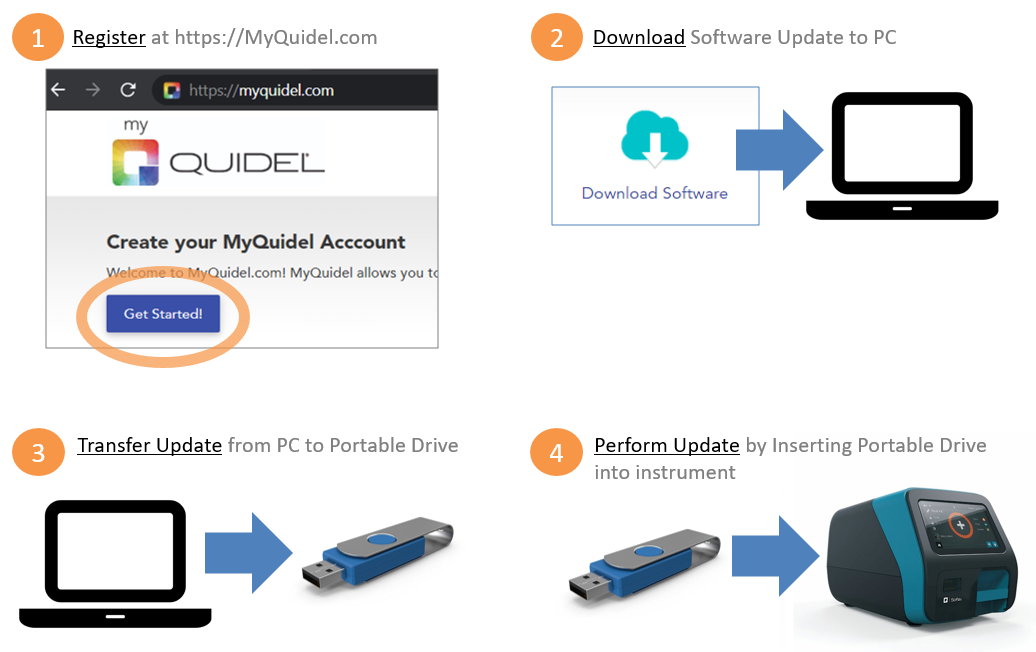 Quick Start Guide
The MyQuidel.com website is a guided service with instructions provided at each step. For those who need it, the Customer Portal (MyQuidel.com) Quick Start Guide contains a complete set of usage instruction in PDF format.
File Copier Instructions Guide
The File Copier app is part of the MyQuidel.com guided service helping you to update your Quidel instrument software. For those that need it, the File Copier Instructions Guide provides detailed instructions on how Instrument Updates are copied from your PC (after you download them from MyQuidel.com) to your portable drive.
Troubleshooting
Below are resolutions to some commonly reported issues:
I'm not able to download files from MyQuidel.com
Solution: Your company IT policy may not allow file downloads or running programs on your PC. To resolve this you may (1) prepare a USB stick (Sofia 2, Solana) or SD Card (Sofia) ahead of time from home or outside your company network or (2) have your IT department assist in preparing the USB stick or SD Card.
---
MyQuidel.com FAQ (Frequently asked Questions)
We'll show you how to update your Sofia Instruments to run COVID-19 tests and to receive the latest testing capabilities
Update your Sofia 2 Instruments to run COVID-19 tests and to receive the latest testing capabilities